Latest
Summer Newsletter!
Read our latest newsletter online
Struggling to read this on a mobile device? Download it here or try reading it from Yumpu.com here
Latest Vacancy!!!
Are you passionate about God and young people?
Are you enthusiastic about evangelism and discipleship?
Do you want a placement opportunity while you study youthwork?
Norwich Youth for Christ are a forward looking team who are passionate about reaching out with the good news of Jesus to young people in Norwich. We are looking for someone to join the team as a student youthworker. The successful candidate will be a part of Meadow Way Chapel, an evangelical community church, north of Norwich
We are looking for someone to prepare and deliver youthwork sessions in a church context and help to develop further projects within the local church's community. You will need to be creative and a good communicator, able to work with large groups and individual young people. Alongside the work, you must be willing to study a youthwork course; either a one year certificate (fully funded) or a BA (at your own expense but travel costs funded).
As an employee of NYFC, you will benefit from a supportive team environment, ongoing training and experienced youthwork management. As a member of the church, you will be encouraged and supported by a number of volunteers already involved in the youthwork projects.
For a job description and application form, go to www.norwichyfc.co.uk/vacancies
There is a genuine occupational requirement that the postholder is a Christian. An enhanced DBS check will be required for the successful applicant.
For an informal chat please call Nick Blanch on 01603 620678
Hours per week: 10-15
£6.94 – £7.67 per hour, dependant on age and experience
Closing date: 16th August
Easter Video parody of Netflix series
Shot in 1 day with a cast of 5 young lads, our Easter video is a parody from a couple of scenes from hit Netflix series 'Stranger Things'. If you're a fan of the show you will enjoy the crossover but if you've never seen it, don't worry – it still makes sense!
With nearly 400 views online and shown at Oak Grove Community Church on Easter Sunday, it's part of our growing library of films that creatively communicate the gospel. Please watch, share and subscribe to our channel!
Hunted Christmas Film Released
We've had an amazing response to our Christmas video, 'Hunted Christmas', with over 1,650 views in it's first 3 days! A parody on Channel 4's tv show 'Hunted', It uses the thriller format of the programme where a team of expert hunters try to find ordinary people who go on the run.  The film follows a modern day surveillance team tracking the wise men in a chase across Norwich city centre as they go to find the baby Jesus and his parents. If you're not familiar with the show, don't worry – it's still very enjoyable!
Network Norfolk wrote in an article that it was "packed with intelligent humour, suspense and excellent acting".
The clip was tweeted by the tv show and a number of people involved in the show who made comments such as:
"Absolutely brilliant!!"
"Had to laugh it was superb great work"
"That's quite a clever twist to the story of Joseph and Mary"
But the most encouraging aspect about this project was at our 'launch' where the young people involved were furiously sharing the video on their personal social media accounts so their friends and peers could see it. It didn't take long before their friends started to make lots of positive comments too.
Please watch it and if you think it's worthy, please share it, either online, in a church or just to a group of friends!
Merry Christmas!
NYFC Shortlisted for National Youthwork Award!
NYFC were among only three organisations shortlisted for the national award but missed out on the final prize to The Door, based in Stroud.
Nevertheless, NYFC were highly commended for their line management system, commitment to team building, personal development, training, reflection and prayer time. Staff commented that they felt accepted, loved, encouraged and challenged.
Director of NYFC, Nick Blanch said, "I love working within an organisation that values its people so highly, and this filters from the trustees to staff and volunteers. I think our work with young people is extremely important and therefore to work professionally and look after our staff is a high priority. We're honoured to be recognised for this."
The Christian Youth Work Awards, run by Youthscape, are described as 'all about appreciating and celebrating the incredible work done with young people in churches and through Christian organisations up and down the UK.'
Youthscape CEO, Chris Curtis wrote that "Norwich Youth for Christ represents some of the best examples of Christian Youth Work employers in the UK today. Your work is making a difference in the community you're serving".
Tracks Launch 
Tracks, our mobile recording studio has gone live! Over 100 people turned out to see the van for the first time and enjoyed a barbeque, live music  and said prayers of blessing over the project, led by NYFC patron Bishop Graham James.
Tracks will work in schools to support vulnerable, disengaged and disaffected young people. By using music to raise self-esteem, aspiration's and achievements, the hope is to see young people motivated and re-engage with their education.
Tracks will also enable young people to develop worship leading skills and give them experience to future employment – whether that be as a musician, a sound engineer, media expert or DJ.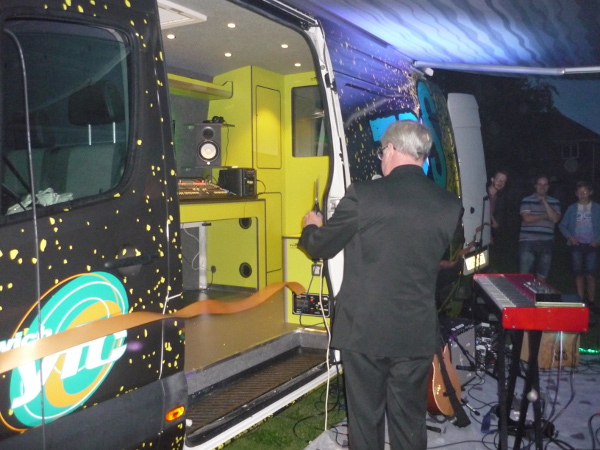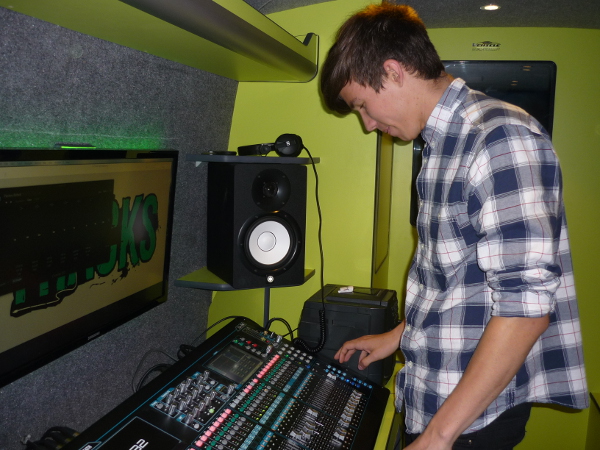 Tracks has been led by NYFC youth worker Sarah Ballard for two years, and after facing many practical challenges the team is delighted that the studio is now ready. The fact that the studio is mobile means that the outreach work can be brought to the young people, and it ties in well with NYFC's school work.
Sarah Ballard thanked the funders and those who donated via crowdfunding and those who undertook their own fundraising activities to provide the £55,000 to purchase and equip the van. She said, "It's feeling a bit surreal to be standing in front of the finished van. It also feels incredibly exciting to get this project on the road."
The van will be used to support the work of NYFC in schools and youth clubs, but it will also hired out to community groups, churches as it is possible to cable out into a bigger venue.
Bishop Graham James prayed for the project. He spoke about the power of music as a way of reaching young people and giving them confidence and creative expression. He said that Jesus is the Way, the Truth and the Life, "Jesus is the true track that we want young people in this generation to follow."
"I didn't think it would change my life"
In our usual style, The Father's Heart youth sessions were loud, crazy and fun. While the adults were engaging in much more serious sessions, we ran a superhero themed weekend including a daily pants challenge (pictured), games, a youth cafe and much more. Teaming up with the other YFC centre's including East Norfolk and Integrate, we engaged in worship led by the Storehouse band and talks by Nick (Blanch), Steph and Jonathan (Richardson).
Asking for feedback at the end of the weekend, 2 young people stood and gave testimony in front of 200 adults. Gail* said "I didn't think it would change my life" and related how God has spoke to her specifically about forgiving someone from her past. She told us she didn't have to "carry the weight around anymore". Eli* said that before the weekend, she didn't belong to a church and was simply invited by a friend to the weekend. But God had spoken to her and she had responded. In her words, "God has opened up my heart and I got to connect with Him".
Here's some of the other comments we had written down:
"While we were singing, I got an indescribable feeling. I could feel the spirit of God moving through the room. It was amazing"
"God has encouraged me to go forward for prayer for boldness and courage to share my faith"
"The advice from the leaders was encouraging and helpful"
The team were tired from the weekend, especially after a busy month which has included Celebrate, The Royal Norfolk Show, a football day at Open Academy and youth worship service, Encounter! Here's to the summer!
*names changed for confidentiality